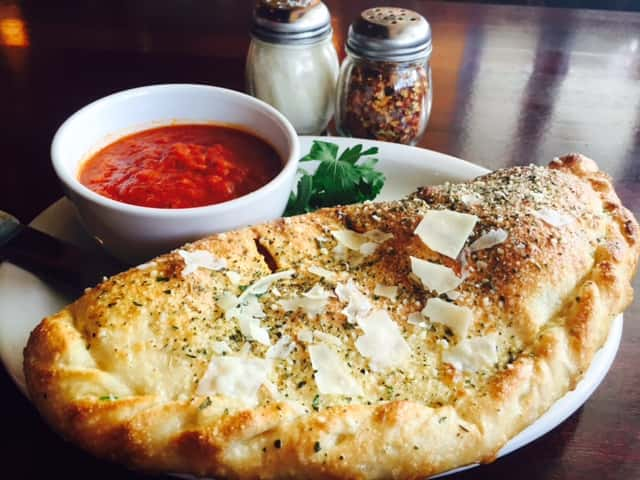 Calzones: The Unsung Heroes of Portable Italian Cuisine
Calzones: The Unsung Heroes of Portable Italian Cuisine
Whether your pizza preferences classify you as a total traditionalist (think classic Margherita) or a more eclectic eater (shrimp pizza, anyone?), there's no question that just about everybody loves Pizza Night. A larger-than-life slice loaded with all your favorite toppings is a surefire win on any day of the week – especially when you're ordering from Streets of New York, the best pizzeria in the Valley.
But what if you want to satisfy your pizza craving with something a little different? As it turns out, you can enjoy all the fabulous flavors of pizza, but in a form that changes things up a bit: the calzone. The calzone is an Italian staple worth sampling with a rich history that will indulge your appetite for fun food facts.
What is a Calzone?
Plenty of people refer to a calzone as an inside-out pizza, which makes sense once you see the list of ingredients: pizza dough, sauce, cheeses, and a variety of other filling options. A circular piece of dough is topped with sauce (usually red), a combination of ricotta and mozzarella, and your choice of ingredients. Some calzones feature varying combinations of meats or vegetables, while others get creative with more unusual fillings.
Once everything has been added to the dough, it's folded over on itself to create a half-moon shape. It's then oven-baked to perfection – a crispy outer crust and hot, melty cheese inside – and typically served alongside marinara sauce for dipping.
If you're in Italy, you might hear this tasty treat called a "calzoni," though both Southern Italians and the majority of Americans know it as a calzone.
Calzone vs. Stromboli
Even for those that consider themselves to be Italian food aficionados, there is sometimes confusion about the difference between a calzone and Stromboli. While the dough for a calzone is folded into a half-moon shape, a Stromboli is made using thin sheets of dough that have been rolled into a flattened sleeve. Both are filled with all of the ingredients you'd usually see on top of your pizza, but their shapes – and origins – are quite different.
The History of the Calzone
Just like pizza, the calzone got its start in Naples, Italy. During the 1700s, calzones emerged as a popular food sold by street vendors, specifically designed to be eaten while on the go. The name translates to "trouser" or "pants legs" in Italian, which was a direct reference to it being a "walk-around" kind of food.
Over the centuries, the calzone held its place as a beloved Italian food. But it wasn't until the past few decades that calzones become a food that many Americans know and love. In 1996, calzones made an appearance on the iconic show "Seinfeld," and they swept the nation's restaurants shortly after that.
Today, most American-style calzones are large enough for two people to share – that is unless you have a particularly fierce appetite!
Add a Calzone to Your Next Order from Streets of New York
You already know that when it comes to ordering pizza delivery in Phoenix, AZ, nobody does it quite like Streets of New York. So, it should come as no surprise to hear that we're also serving up the best calzones in Maricopa County!
From the best New York-style pizza in Phoenix to a wide variety of calzones, pasta, salads, and more, Streets of New York has something for everyone. Plus, we offer convenient pick-up or delivery, so you can have your meal when and where you want it.
Call the Streets of New York nearest you to order pick-up or pizza delivery in Phoenix today!