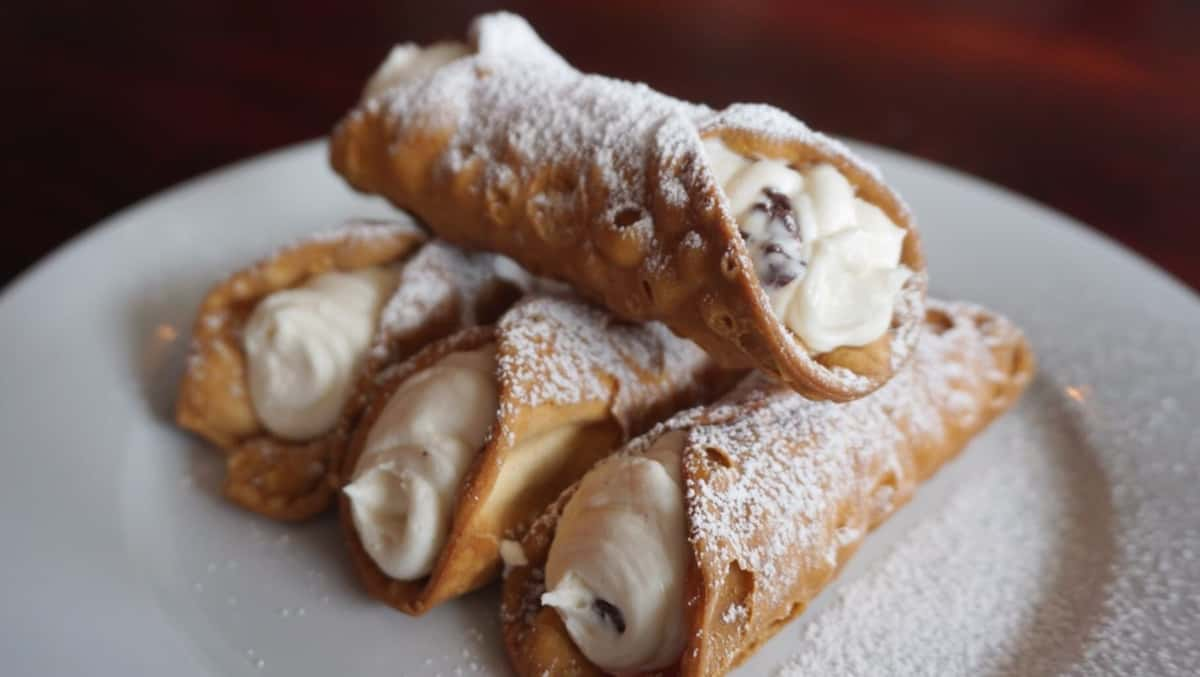 The Best Desserts in the Desert
The Best Desserts in the Desert
Here at Streets of New York, we spend a lot of our time talking pizza, and for good reason! Our New York-style pizza is this best in the West! But it's not all we have to offer and so we wanted to take a moment here to talk about the back half of dinner from Streets of New York – the dessert!
Streets of New York Knows Our Way Around Dessert
In all of our restaurants, we have a list of dessert staples that are available. Cannoli, Passion Cookie, New York Cheesecake, Double Chocolate Cake, and of course Vanilla Ice Cream. Let's run down the menu and give each of these items their proper due.
Cannoli
Ah, cannoli, when one thinks of an Italian dessert, these 'little tubes' (the English translation of cannoli) are not far from mind. These sweet treats are tube shaped shells of fried pastry dough that are then filled with a sweet cream – ours have a rich, creamy ricotta cheese filling. Cannoli trace their roots back over a thousand years, to Caltanissetta in Sicily circa 800-1100 AD. They've been a delicious dessert ever since!
Passion Cookie
Streets of New York's Passion Cookie brings together two classic, beloved desserts to create an exponentially better one. A chocolate chip cookie, fresh from the oven still warm and gooey. Vanilla ice cream, cold and creamy, with a chocolate syrup drizzle. The combination of heat and cool combine to make a dessert that's an instant classic. The cold, creamy ice cream melts into the warm gooey cookie to make each bite better than the last. Truly we can't say enough about this combination. It's simple, it's divine.
Double Chocolate Cake
Any chocoholics in the house? We're right there with you, chocolate is rich, decadent, and sweet. Combine that with a perfect moist cake and add in ganache, a glaze made of equal parts chocolate and cream, and now you're really cooking with gas! Our double chocolate cake is layers of chocolate cake and ganache, stacked high for a dessert to die for. If chocolate is your vice, look no further than getting a slice!
New York Cheesecake
Our pizza isn't the only New York slice around here! New York Cheesecake is the bigger more indulgent older brother of the traditional cheesecake. It's dense, rich, and so smooth. Honestly, it's such a heavy hitter it's tough to have too big of a slice. Our New York Cheesecake is made with cream, egg yolks, and heavy on the cream cheese all atop a graham cracker crust that gives each bite the perfect layers of flavor. Throw some cherry on top if you want a sweet and tart kick!
Vanilla Ice Cream
Let's clear up one thing first. Vanilla isn't plain! Vanilla is a spice and a flavor. It just happens to be a classic and sometimes that simplicity gets mistaken for boring or a lack of flavor. Well here at Streets of New York, we recognize when sometimes the simplest tastes are the best. When you want a classic, cool treat on a hot Southwestern night – vanilla ice cream is here to give your taste buds a sweet kick. Top it with a chocolate syrup drizzle and bring out both flavors!
Honestly, each of these desserts deserves its own blog, and in the future, we may have to do just that! But for now, this quick rundown will have to do. So put in your order for your pizza delivery, and don't forget the dessert! Remember, when it comes to desert…