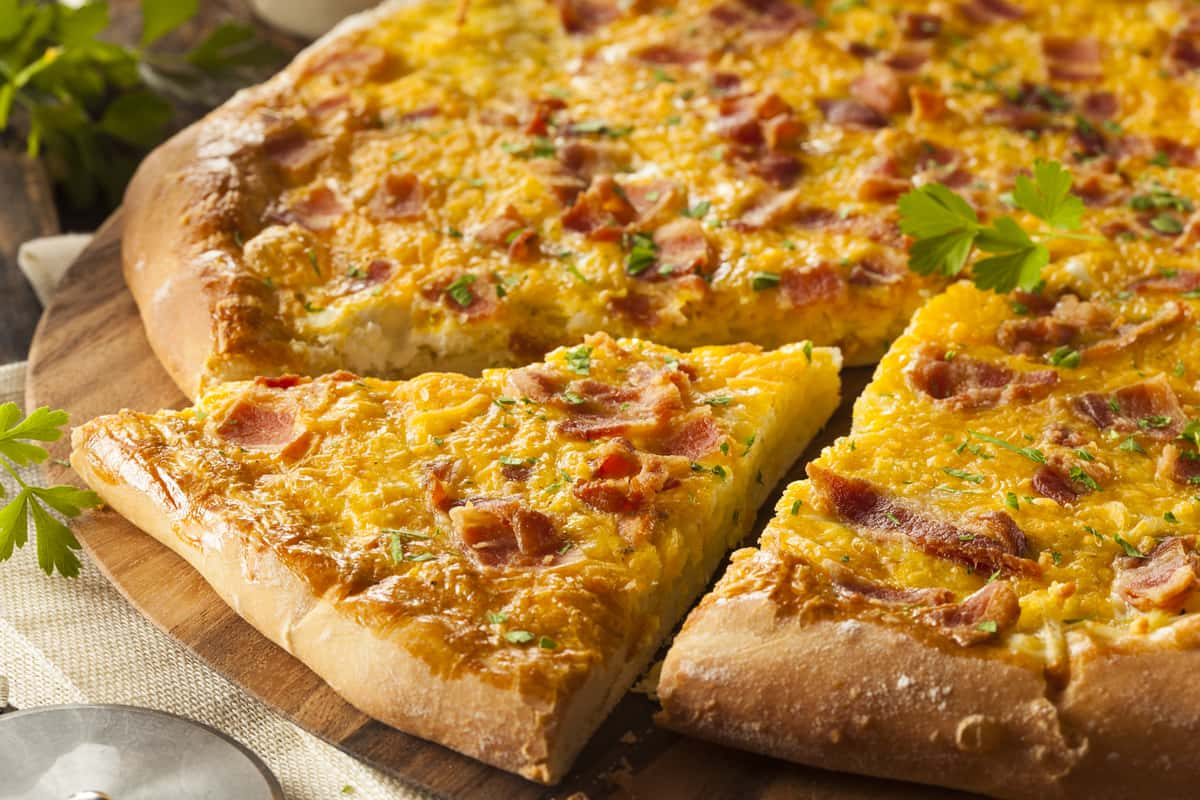 How to Make Breakfast Pizza
How to Make Breakfast Pizza
Pizza is, as we're all aware, the best food out there. After all, you've never heard anyone scream for a "sandwich party!" But what if you could have it for more than just lunch and dinner? After all, there's a whole other meal in the day that could probably use some pizza goodness. This time on the Streets of New York blog, how to make breakfast pizza, so you can do just that!
How to Make Breakfast Pizza
A breakfast pizza is a magical thing. It takes breakfast staples like sausage, egg, cheese and delivers them in a yummy pizza form. Here's what it takes to make a breakfast pizza that will serve six to eight (or fewer, follow your bliss!)
Breakfast Pizza Ingredients
Cooking Spray

1 tbsp. unsalted butter

1 tbsp. All-purpose flour

1 ¼ cup whole milk, divided

¾ cup shredded cheddar cheese, divided

½ tsp kosher salt, divided

4 large eggs

8 oz uncooked breakfast sausage (casings removed

1 lb. pizza dough, room temp

1 cup hash brown potatoes

1 cup shredded mozzarella

2 scallions
Equipment Needed
Baking sheet

Small saucepan

Medium nonstick frying pan

Mixing Bowl

Whisk

Paper towels
Get all that ready? Alright, let's get to work!
Instructions
First, get that oven heated! Set a rack in the middle of the oven and heat it to 375°F. Take the cooking spray and coat a baking sheet.
Make the Cheese Sauce
That's right, cheese sauce. Get your small saucepan and melt the butter over medium-high heat. Add flour and cook for about a minute, stirring the whole time. Then whisk in one cup of milk. Bring to a boil, whisking occasionally until thickened. This will take about three to four minutes. Then remove from the heat and whisk in ½ cup of cheddar cheese and ¼ teaspoon salt. Set it aside to slightly cool while you prepare the toppings.
Toppings
For your toppings, you'll just need to cook your toppings up how you like. Take your medium non stick frying pan and put it over a medium-high heat. Crumble your sausage and cook until brown, about five to seven minutes.
While the sausage is browning, whisk your eggs, the last quarter cup of milk and quarter teaspoon salt into a medium bowl. Move the sausage from the pan, leaving the fat, and pour in the eggs. Scramble until they're cooked through but still moist, about three or four minutes. Take the pan off the heat.
Bring it All Together
Roll and stretch your pizza dough until it's about a foot round. Move the dough onto the baking sheet. Use a fork to poke holes in the dough, starting in the middle and working your way out to about an inch from the edge. This helps keep the dough from getting soggy from the cheese sauce.
Now you're ready to sauce the pizza. Spread the cheese sauce in an even, thin layer. Top the pizza with your sausage, eggs, hash browns. Then spread mozzarella cheese on top followed by the last quarter cup of cheddar cheese and the scallions.
Bake it for 20 to 25 minutes til the cheese melted and the crust is a perfect golden brown. Let it cool and slice it up! After about 10 minutes out of the oven the pizza will have cooled to the right temperature and texture.
Now, you could do all of that or you can eat some leftover pizza. It's still pizza, and it's still breakfast! Meal prep your breakfast pizza and order a delicious, fresh pie from Streets of New York today!