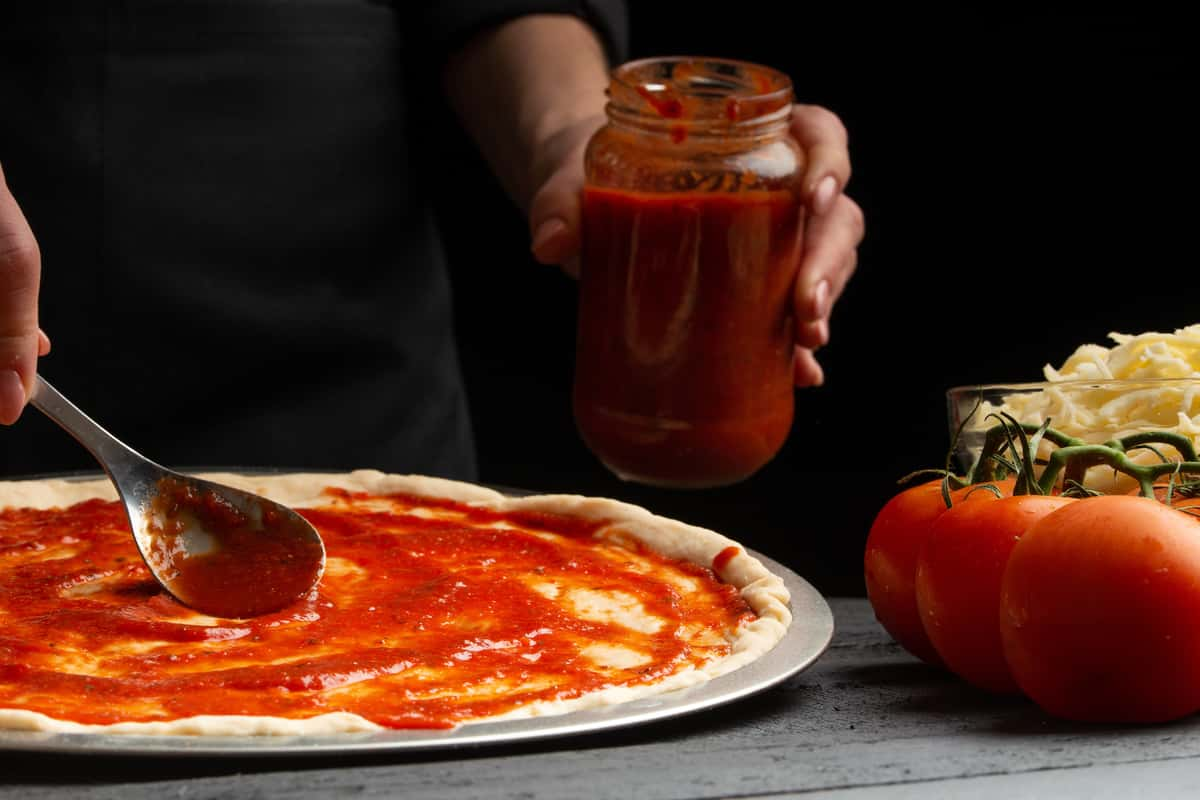 Saucy Pizza Sauces
Saucy Pizza Sauces
A New York-style pizza needs a few things to really sing – the right crust, cheese, and of course a killer pizza sauce. This time on the Streets of New York blog we're going to give you the low down on each of our delicious, inspired sauces – and which toppings fit their unique flavor profiles best. So if you've ever wondered about a pizza sauce other than tomato, read on. This blog's for you!
Streets of New York's Pizza Sauces


Tomato
The OG, the classic. Bold with a bite. Tomato sauce is the pizza sauce as far as we're concerned. We have a whole blog on just tomato sauce so we'll summarize it quickly here. The base of our tomato pizza sauce are tomatoes especially grown in volcanic soil in Naples. Packaged in special lined cans to prevent any loss of flavor, they get mixed with our special blend of herbs and spices to create, in our eyes, the perfect tomato sauce. A great base for any topping.
Tuscan EVOO
Tuscan Extra Virgin Olive Oil, or EVOO for short, is a refined, simple item to use as a pizza base. When you don't want tomato and the other sauces seem to be "too much" consider getting a pizza with a drizzle of EVOO for your base.
Want to see Tuscan EVOO in action? Order our Uptown Gourmet White Pizza. Topped with garlic butter, mozzarella, ricotta, roasted garlic, Tuscan EVOO, and spices it makes for a pizza with a bit more class than your traditional New York Style pepperoni!
Alfredo
You know a sauce is special when it makes the leap from pasta to pizza. Well, alfredo sauce is that special sauce. Alfredo sauce is whipped up with butter, parmesan cheese, heavy cream, herbs, and spices. In the words of the Immortal Emeril, 'bam!' you got a wonderful sauce to use as the base of your pizza. Alfredo pairs great with chicken, of course, as well as diced bacon, onion, mushrooms.
BBQ
Barbeque sauce is an American staple and Streets of New York is happy to offer a BBQ-based pizza sauce. BBQ is known for that sweet, tangy, smoky flavor and putting it as the base for a pizza with the right toppings is a no-brainer. For a BBQ-based pizza, skip mozzarella and go for provolone for your cheese, and opt for any of these toppings: mushrooms, garlic chicken, onions, bacon.
If you're a BBQ maniac you could always order some BBQ wings as a side – but that might be a bit too much for our tastes! We'd opt for some Buffalo or something hotter to give a kick of heat to your meal.
Pesto
Pesto is another one of those beautiful sauces that made the leap from other Italian dishes into pizza. Made up of garlic, crushed pine nuts, basil, salt, Parmesan and blended together with some olive oil. *Chefs kiss* It's a delight.
Top your pesto sauce with chicken, tomatoes, peppers, olives, onions, artichokes, and/or feta.
Now, up to this point you've probably been thinking 'Yeah okay, I know all these sauces.' First of all, cool it alright, we have to cover the classics! Second, sounds like you're the adventurous sort. If that's the case, you'll love our next two sauces.
Buffalo Ranch
When you want the flavors of wings but the structure of pizza – look no further than the Buffalo Ranch pizza sauce! Replacing the crisp, fresh tomato with the creamy kick of Buffalo ranch is a great way to change the game. Top with chicken, onions, bacon, mozzarella, and enjoy!
Cilantro Lime Cream
Our Cilantro Lime Cream pizza sauce is the base for our Uptown Gourmet shrimp pizza. Made up of cilantro leaves, lime juice, and some herbs and spices, it's a great fresh and citrusy base to build on.
To get our shrimp pizza, you'll top it with garlic shrimp, mushrooms, red onion, and cherry tomatoes. But if you're not a fan of shellfish, garlic chicken might be just the replacement you need for a fresh-tasting pizza.
Thinking of these sauces has us hungry! How about you? Order your Streets of New York pizza today, and don't forget the sauce!