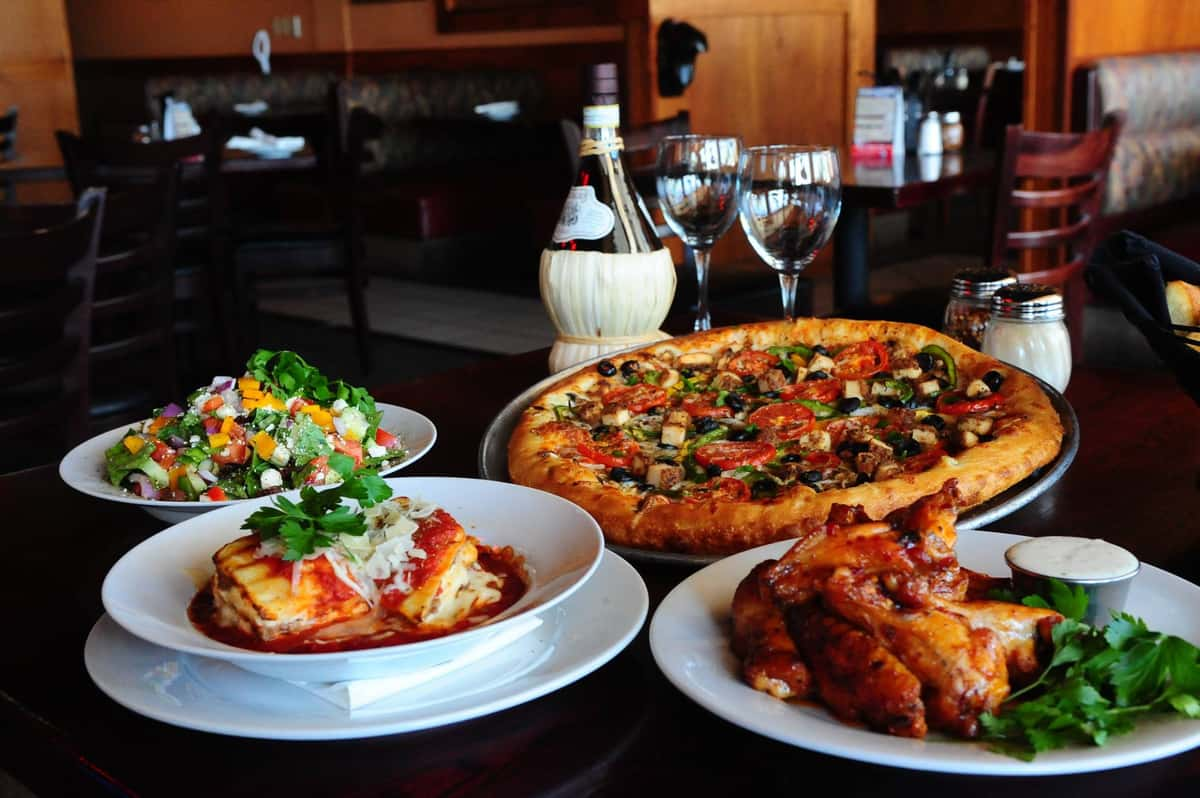 The Best Wine with Pizza? Depends on the Order of Course!
The Best Wine with Pizza? Depends on the Order of Course!
Here at Streets of New York we love a good glass of vino with a slice. The flavors, when paired right, are perfectly complementary and take the experience to the next level. But there's the difficulty isn't it? How do you pair your wine and pizza right? This time on the Streets blog we're going to take the guesswork out of it for you and lay out the pairings for best wine with pizza.
The Wines of Streets of New York
First let's lay out the wines we have available at our Streets of New York locations. They are as follows:
Pinot Grigio
Chardonnay
Cabernet
Sangiovese
Prosecco Brut
Red Blend Bv
Pinot Noir
Chianti
House White
House Red
Now which wine goes with which 'za? Let's lay it out.
The Best Wine with Pepperoni Pizza
Pepperoni has a strong flavor, made of cured beef and pork with all sorts of spices to give it a kick. The fat in the pepperoni will also help spread that flavor throughout the cheese, giving each slice a great bite. To go with that you'll need a strong wine, otherwise it would be overpowered. To that end, look at a Sangiovese.
Another way to look at it is to look for something that weighs in at a lower acid level – the tomatoes will bring in plenty of acid on their own, being sweet and acidic. Wines that can meet the pizza there are Italian Chiantis or a Cabernet Sauvignon.
The Best Wine with Margherita Pizza
Margherita pizza is all about the fresh, light flavor of it's ingredients. For this match look for a lighter flavor to keep the light flavors of the pizza in focus. Too strong a wine and you'll lose out on what makes the margherita special. Start your search for your perfect wine pairing with lighter reds, and go from there.
The Best Wines With MeatLover's Pizza
When it comes to pairing wine with a pizza full of meats, we can start by looking at similar foods, such as a steak or burger. These red meats go well with a full-bodied red, and so does a MeatLover's pizza! Look at Cabernet Sauvignon, Merlot, or a Zinfandel. Red wines pack the tannins that match the fattiness of red meat.
The Best Wine with White Pizza
White pizzas are wonderful for opening up a whole new range of flavors and with it some new wines to pair! White pizzas have more creamy flavors which can bring out the best in wines like Pinot Noir and Chardonnay. These two wines also match the greens that are typically topping a white pizza. You can even look at something with some effervescence to it so don't sleep on Champagne!
The Best Wine with BBQ Chicken Pizza
Barbecue might not scream wine food but the truth is far from it! BBQ has sweet, tangy, smoky flavors that, like white pizza, open themselves up to some really wonderful wine pairings. When pairing wine with the sweeter flavors of BBQ, look for something that's a bit more fruit forward in either white or red, like a Zinfandel.
The Best Wine With a Veggie Pizza
Veggie pizzas can have a whole bunch of different flavors owing to the range of peppers, onions, mushrooms, olives, basil, artichokes… the list goes on! For these think about something that will stand up to all the different flavors, like a Sauvignon Blanc. It has plenty of acidities of it's own that can handle the veggies
Now, if you read all that and realized, "You know, I'm more of a beer drinker," well Streets of New York has you covered there too! Ask the server for the current selections as there are more variety available between locations. Whether you're a wine connoisseur or a more of an IPA Guy, Streets of New York has you covered - from apps to dessert, and all the drinks along the way we provide our communities with the best in pizza, pasta, and yes, wine!