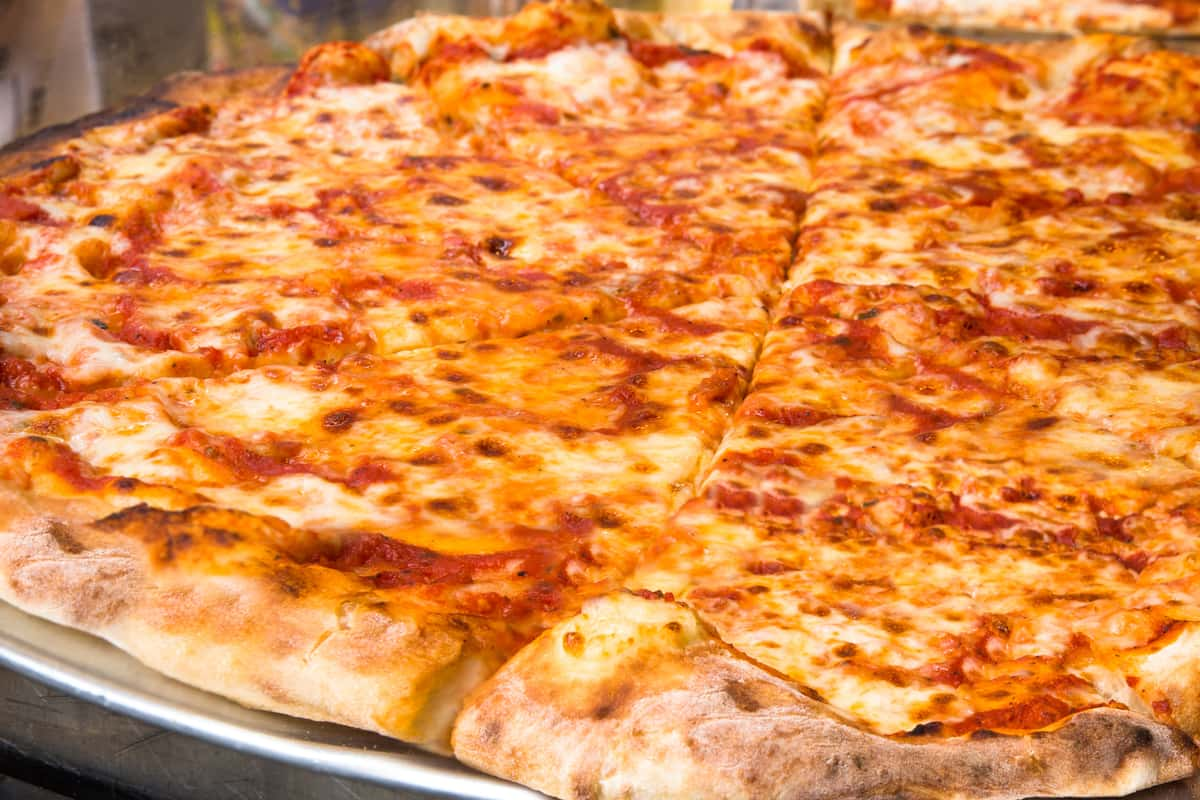 NY vs Chicago: Whose Pizza is Best?
NY vs Chicago: Whose Pizza is Best?
When it comes to culinary conversations, the topic of pizza is no stranger to debate. Considering the passion for pizza that's taken over the world, it's probably not surprising to learn that there are plenty of opinions on everything from the best toppings to the right way to eat a slice.
According to the 2019 Pizza Power Report published by PMQ Pizza Magazine (see what we mean about pizza being a serious topic?), the international pizza market raked in nearly $145 billion last year, with the U.S. responsible for more than $45 million of that.
And as it turns out, pizza lovers are becoming pickier than ever. So, it makes sense that everyone wants to know: what is the best pizza?
A Tale of Two Pizzas: New York vs. Chicago
This question has sparked a generations-long battle between two American cities, each one a pizza capital in their own right. NY/East Coast-style pizza and Chicago-style pizza have long been pitted against each other, each one with its dedicated following.
Of course, there are many different variables to consider when you're using a critical eye (or should we say tastebuds) to evaluate a pizza:
Thin-crust/deep dish crust: Is the crust thin and crispy, or does it more closely resemble an overloaded pie?

Cheese: What kind of cheese is used, how much is used, and where exactly does it fall on the hierarchy of toppings?

Sauce: It's not just about the flavor of the sauce, but also the consistency and the amount.

How it's served: Your entire dining experience can be changed by which side of the pizza dividing line you fall.

How you eat it: Do you need a fork and a knife, or can you enjoy a slice on the go? It's going to depend on which city you're eating pizza in!
If you're going to ensure a fair fight between these two pizza pies, you have to know exactly what you're dealing with – and how each type of pizza is unique.
The Differences Between New York and Chicago Pizza
If you're trying to choose between Chicago-style and New York pizza, just about anyone and everyone has an opinion they want you to hear.
But ultimately, nobody can decide for you. At some point in your time as a pro-pizza lover, you're going to have to choose for yourself: which is better, Chicago or New York-style pizza?
To prep you for your big pizza decision, we've put together a handy guide to the most important differences between Chicago-style and NY pizza. So, weigh your options and sample the slice of your choice after reading this pizza breakdown:
The Crust
The crust is arguably the most significant difference between these two types of pizza. From a glance, you can immediately see that Chicago and NY pizza crusts couldn't be less alike. It's the crust that's the key determining factor in which pizza they prefer for most people.
A New York pizza has a thin, crispy crust that's flexible without being soggy. When you think of traditional pizza, this is the crust you visualize. The crust is designed to complement the sauce, cheese, and toppings, not take over. Plenty of people claim that creating the perfect NY pizza crust is something of an art, requiring a significant skill. It all comes down to high-quality ingredients, an excellent recipe, and the right technique for hand-tossing the dough.
When you order a pizza in Chicago, you might be surprised by what shows up at your table. Unlike the tastefully thin crust of a New York pizza, Chicago prefers a deep-dish style and a thick, sometimes doughy crust. A Chicago pizza crust is usually about an inch deep, which makes for a mouthful of bread that many people don't consider very "pizza-like."
The Cheese
Cheese is cheese, right? It's not quite that simple. Ask any cheese lover, and they'll tell you that not all cheeses are created equal. And there's no situation in which that's more accurate than when you're comparing NY and Chicago pizza.
On a New York pizza, the cheese of choice is typically a grated, low-moisture mozzarella. If you order a slice of Neapolitan-style pizza in New York, you might end up with a slice topped with fresh slices of mozzarella. But usually, New York pizzerias stick with a classic layer of perfectly melted and fabulously flavorful mozzarella.
On the other hand, Chicago tends to be less of a traditionalist in terms of cheese. Their deep-dish pizzas are often overstuffed with various cheeses and might even have multiple layers of cheese sandwiched between other ingredients. For people who aren't fans of Chicago pizza, this is usually one of the biggest complaints: with that much cheese, you're often left with a plateful of grease and an aching belly.
The Sauce
In New York, the pizza sauce is heavily seasoned for a maximum Italian flavor. In every bite, you'll enjoy a balance of sweetness and spice. The smooth sauce has the ideal texture for spreading across the crust without making the pizza take a soggy turn.
On the other hand, Chicago-style pizza sauce is typically quite a bit chunkier. Depending on how traditional a deep dish you order, you could end up with large tomato pieces throughout. There's also much more sauce used in Chicago pizza – that ultra-deep crust has to be filled with something!
How it's Served and How you Eat it
You get NY pizza by the slice, and a whole pie usually clocks in around 18 inches in diameter. The slice has that timeless triangle shape that we all know and love like pizza, perfect for folding up and taking bites while you're on the go.
But Chicago pizza is essentially a savory pie – you're going to need a fork and knife and plenty of napkins. It gets messy, and you're committing to a sit-down meal and plenty of recovery time afterward.
Celebrate Your East Coast Pizza Passion with the Best NY-Style Slice in Arizona
We might be biased, but we think the winner is pretty straightforward: New York-style pizza is unquestionably the best in the world. Sure, Chicago might be the place to go when you're craving a savory pie that just so happens to use classic pizza ingredients… but we think it's fair to say that deep dish is disqualified.
Not convinced? In that case, you probably haven't had a genuinely excellent slice of authentic New York pizza yet – but don't worry, we have you covered. Streets of New York is the Valley's go-to favorite for NY pizza and pasta, and we've been serving up slices of East Coast-style perfection for decades.
Come into one of our Phoenix restaurants to discover why we're the only place outside of the Big Apple that's doing pizza right. Or, order take-out or delivery by using the Streets of New York app or calling your neighborhood location directly.
Whichever way you slice it, there's just one clear winner in the great pizza debate: you, once your pizza preferences are forever changed at Streets of New York.
Featured Image: littlenySTOCK / Shutterstock