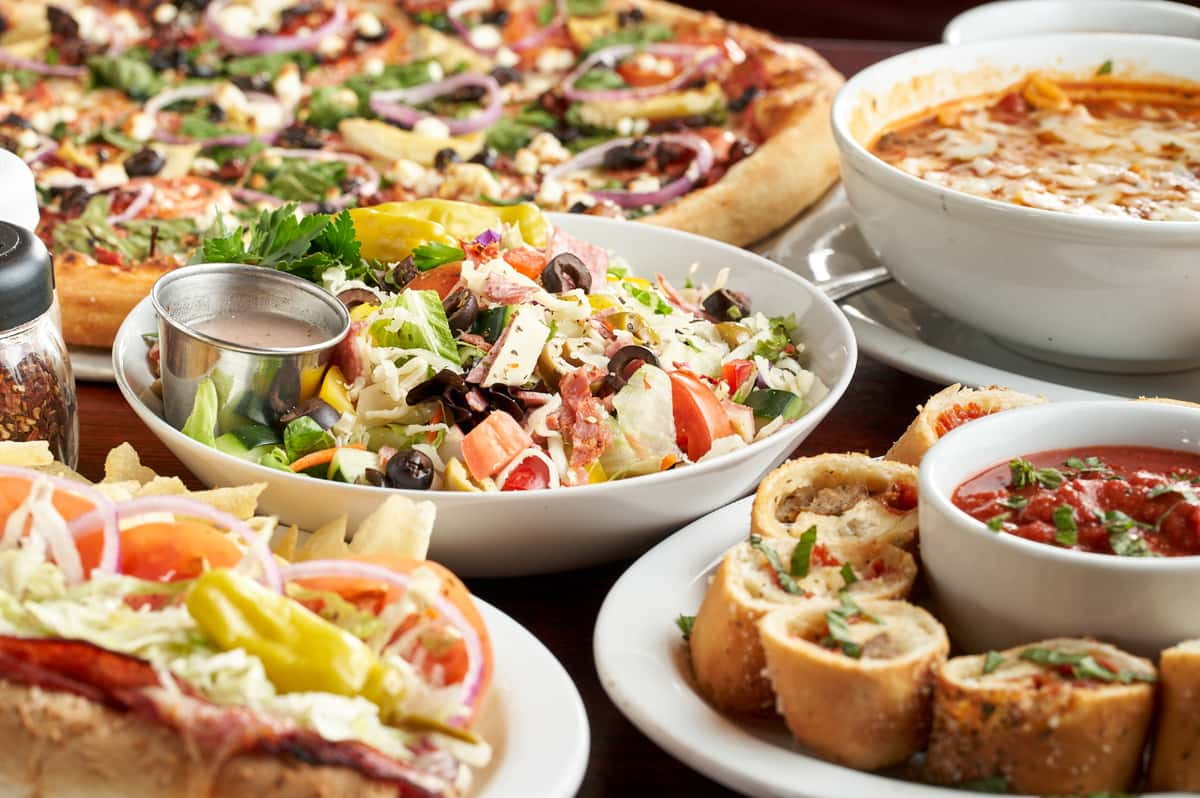 Streets of New York Blog
Happy Thanksgiving from Streets of New York
We'll keep this blog short and sweet. This weekend is a special holiday for many of us. Getting together with our loved ones, under one roof, sharing a meal that everyone participated in is what makes Thanksgiving a long-standing tradition here in the US.
The Caprese Salad
Last time we clogged up our arteries talking about the Meatlovers Pizza on our menu. This time on the blog we are going to take a step back, and look to the other side of the menu – the salads. Specifically, we're talking the Caprese Salad, what it is, where it's from, how we serve it and answering a few common questions we see crop up.
The Meat Lovers
The Carnivore, the T-Rex, the Allmeats – whatever you call it – the truth remains the same: there's just something so perfectly delicious about a pizza covered in meats! This time on the Streets of New York blog we wanted to dive into the Meatlover pizza, what it is, what makes it great, and who Streets of New York serves up ours!
Pepperoni Pizza - The Classic
There are few pizzas that stick in the mind, in the cultural awareness of pizza quite like the classic pepperoni pizza. But why? What makes pepperoni pizza the go-to? Who first came up with it? Wonder no longer friend!
Streets of New York 45th Anniversary!
This past Friday, the 29th, Streets of New York celebrated 45 years of being the Valley's New York-style pizza place and East Coast bakery! It's been quite the journey and we wanted to take a beat and share our story.
How to Toss Pizza Dough
How do they do it? you wonder. It's a ball, now it's a flat circle – how do they toss pizza dough so perfectly?! Well roll up your sleeves and read on, this time on the Streets of New York blog we're going to tell you how to toss pizza dough to get the perfect crust.
What is Detroit Style Pizza?
Here at Streets of New York, we're something of pizza experts if you don't mind our saying so. More than just being the experts on New York-style pizza, we know the ins and outs of those other regional styles, heck we've eaten plenty of them ourselves!
Broaster Chicken - The History, The Flavor
Chances are when you're thinking about your go to order from your local, neighborhood Streets of New York the first thing on your order isn't chicken – we don't blame you, our New York style pizza is to die for – but it's not the only thing on our menu we're proud to offer! This time on the blog let's talk about one of our pride and joys: Broaster Chicken!
Meatball Sliders - Meatball + Sandwich = Yum
When you want the kick of meatballs but no noodles, and a full bread roll seems like overkill – you're craving a Meatball Slider. Classic, delicious Italian taste in a convenient form factor of a slider. This time on the Streets of New York blog we're diving right in to look at one of our favorite menu items at all of our neighborhood Streets locations – the Meatball Slider!
Neapolitan Pizza - The Pizza of Naples
Neapolitan pizza is one of the common varieties of pizza out there – you might even think of Neapolitan as the grandfather of our own New York-style pizza – but what is it exactly? Not everyone has an experience with it, especially if their only real intro to pizza is through the national chains. Neapolitan pizza might be considered by some to be a "bougie" pizza but that's not quite the case.
Pizza Flavored What Now?
This time on the Streets of New York blog we're looking at some of the wildest, weirdest foods out there that have the audacity to claim "Pizza Flavored." From chips (that's normal right?) to ice cream (what now!?) we're going on a flavor journey, or as Guy Fieri would say, "We're takin' you on a road rockin' trip down to Flavortown!"
The Chicken Wing Shortage of 2021
Chicken wing prices have been rising in America for restaurants and suppliers for a number of reasons, the customer might not see the price increase but surely feel the absence of their favorite chicken wings. The price of chicken rose in 2020 quite rapidly, by about 10% over the year. This is atypical for the industry. So what's up? Two things: the pandemic and a harsh winter.
The World's Biggest Pizza
This time on the blog we're going big. We're not talking about your local Triple X L, or the Pizza Shack's Sasquatch Pizza. No, we're going even bigger! We're talking about the biggest pizza the world has ever seen! Let's turn to Guinness World Records to get their official reckoning!
Back to Pizza School - Chicago-Style Pizza 101 - An Intro to Deep Dish
This time around we're going to step out of our kitchens to look at a type of pizza we don't mess with here at Streets of New York – it's just not our style! The feud between New York style and Chicago style pizza has been a long one, and while it's clear what side of the battlefield we're on – there's still a lot to enjoy about Chicago style pizza.
Pizza and Beer - Name a More Iconic Duo
Few things go together as well as a big slice of New York-style pizza and an ice-cold beer. It's the meal of choice for game days, fight nights, parties, and hangouts for a reason! We've covered wine and pizza pairings before – it's only fair we do the same for our hoppier friends. Without further ado let's talk about the best pizza and beer pairing out there!
The Submarine Sandwich - We Lub Subs
Ahhh, the submarine sandwich. There's something about this odd-shaped sandwich that haunts our dreams – who thought of making bread and slicing it that way? Who thought to fill it like that? It begs many questions - this time on the Streets of New York blog we're diving deep, like a submarine, into subs!
Everything to Know About Chicken Parmigiana
The chicken parmigiana, or chicken parmesan (or chicky chicky parm parm if you're Pawnee resident Tom Halverford), is a classic dish coming from the 20th century when Italians emigrated from Italy to all over the globe. What's in it, why's it so popular, and more – this time on the Streets of New York blog - The Chicken Parmigiana.
Brooklyn Style Pizza - What Is it and Is it Legit?
Welcome back to another entry here at the Streets of New York blog! We're back on our grind talking about pizza and this time we wanted to talk about an even more niche style. While we love our New York-style pizza, there's another NYC-style pizza that pops up on folks' radar. This time on the blog, Brooklyn-style pizza… what is it!?
The Tradition of Italian Wedding Soup
Weddings are picking back up after a year off and with them are traditions as varied as the stars in the sky! What's on the menu? Well it could be Italian Wedding Soup, but don't get it twisted, Italian Wedding soup has nothing to do with weddings really. Confused? Don't worry we'll make it all crystal clear!
The Legend of...Lasagna!
Lasagna, or lasagne, is a pasta dish that goes back centuries. Further than pizza, back into the Roman republic for sure, and possible even back to the ancient Greeks. How did a food dish like this stand the test of time and the evolution of spices, flavors, and tastes? Easy. It's delicious!
What to Serve with Pizza? Appetizers that Zing!
We talked about bruschetta and Italian sausage earlier this month so we figured why not, let's take a big picture look at all of the appetizers Streets of New York offers! You'll never wonder what to serve with pizza again – because we've got it covered!
Brush Up on Bruschetta
So what's up with Bruschetta? Is it the bread? The topping? You might not be aware of what constitutes this classic appetizer so let's dive right into it and talk about what bruschetta is, what makes it such a great app, and more! This time on the Streets of New York blog – brushing up on bruschetta!
What Your Pizza Toppings Say About You
Pizza toppings – the subject of frequent debate wherever a party gathers! Do you go for a 'standard' pep? A plain cheese? Go for a Supreme and see who eats a slice? When you really think about it, your choice of pizza toppings say a lot about you as a person.
How Much to Tip The Pizza Guy?
Your pizza has arrived and you're fumbling with your wallet trying to run some numbers and figure out just how much to tip your pizza guy. They're watching you and now you're sweating thinking you are messing up quickly! Just tip 20% - divide your bill by 5 and add that to your total.
How the (Italian) Sausage is Made
ou know it when you taste it, that kick of spice in the sausage. To put it shortly, that's the Italian in the sausage. Italian sausage is one of our favorite appetizers on our menu and it makes for a killer topping! The saying may be about how you don't want to know how the sausage is made, Italian sausage is a different ball game!
The Streets of New York Pasta Primer
Spaghetti, Ziti, Ravioli, Gnocchi, Lasagna, and on it goes! Pasta covers a wide range of different meals. So, what's the difference? Sit right back our pasta apprentice! This time on the Streets of New York Blog we're giving the rundown on various types of pasta! Without further ado!
The Perfect Pastrami
Few things are more New York than the perfect pastrami sandwich. There's something about the way delis back East handle their meat that makes those sandwiches sing! That's why we are so excited to be offering a pastrami sandwich from one of the most famous delis in the world.
The Calzone Zone
It is the middle ground between pizza and sandwich, between slice and sub, and it lies between the pit of our stomachs and the summits of our tastes. This is the zone of the imagination. It is an item which we call the Calzone.
Marinara Monday
Last week we talked at length about that glorious cheese mozzarella and previously we've covered what makes pizza dough so good, it's time we give sauce its rightful place in the sun! This time on the Streets of New York blog, we're talking marinara!
Mozzarella, Molto Bella!
Let's talk about cheese baby, let's talk about pizza please! Alright we might not be the best singers, but our hearts are in the right place. This time on the Streets of New York blog we wanted to take a look at one of the key ingredients of our pizzas, pastas, and more – mozzarella.
A Summer of Salads
The Arizona Summer is in swing and with that comes heat and the tried and true tradition of seeking anything to make it a bit more bearable. In that spirit this time on the Streets of New York blog we're taking a look at a nice refreshing addition to any meal – The Salad. Whether it's the focus or an appetizer before a larger meal, salads bring something special to the table
A Brief History of Chicken Wings
Consider the chicken wing. A popular pairing with pizza, beer, enjoyed while watching a big game with friends, a great food to feed a party as each wing is a perfect contained little nugget of deliciousness sauced and ready to defeat hunger. Was it always this way?
What is a Margherita Pizza?
Last month on the blog we took a look at the history of pizza, how it developed from street vendor fair in Naples, Italy to the worldwide food phenomenon it is today. Along that journey we mentioned the Margherita pizza, it's a tried and true classic pizza flavor and today we're giving it it's own blog!
How to Make Breakfast Pizza
Pizza is, as we're all aware, the best food out there. After all, you've never heard anyone scream for a "sandwich party!" But what if you could have it for more than just lunch and dinner? After all, there's a whole other meal in the day that could probably use some pizza goodness.
Just How Long is Pizza Good for in the Fridge?
You're hungry for lunch but not feeling like making something new since it's just for you. You crack open the fridge and see the pizza left over from… when did you order it? Saturday? Friday? It's probably fine right…
Who Invented Pizza - The History of 'Za
Did you know next month, on May 15th is National Pizza Party Day? That's right! And as folks around the country open up a cardboard box to chow down on the perfect slice of saucy, cheesy goodness your mind might wander back, 'Who invented pizza? What genius thought this up!?' Wonder no more friends!
The Best Wine with Pizza? Depends on the Order of Course!
Here at Streets of New York, we love a good glass of vino with a slice. The flavors, when paired right, are perfectly complementary and take the experience to the next level. But there's the difficulty, isn't it? How do you pair your wine and pizza right?
Saucy Pizza Sauces
A New York-style pizza needs a few things to really sing – the right crust, cheese, and of course a killer pizza sauce. This time on the Streets of New York blog we're going to give you the low down on each of our delicious, inspired sauces – and which toppings fit their unique flavor profiles best.
Gluten Free Pizza and Other Healthy Options with Streets of New York
As dietary restrictions, food allergies, and diseases like Celiac become better understood, it's never been a more important time to offer something for everyone. Here at Streets of New York we strive to do just that by offering gluten-free pizza crusts, and other options so everyone can enjoy a nice slice!
The Best Desserts in the Desert
Here at Streets of New York, we spend a lot of our time talking pizza, and for good reason! Our New York-style pizza is this best in the West! But it's not all we have to offer and so we wanted to take a moment here to talk about the back half of dinner from Streets of New York – the dessert!
Our Crust Needs One Special Step, It is 'Dough' Important
Let's talk about dough baby! Last time on the blog we went into the ins and outs of New York pizza and how the crucial piece in a New York pie is the crust. What makes the crust? Well, it's the dough, duh! This time on the Streets of New York blog we want to talk about dough.
What is New York Pizza?
Now here is something we both love to talk about and are uniquely qualified to discuss. The almighty New York Pizza! Every region, half the states, and a dozen different cities claim that their pizza is the best with special differences that make them stand out. This time on the Streets of New York blog we're talking about New York Pizza, what makes it 'New York' style, and why we find it the best kind of pie you can get!
How 3rd Party Delivery Apps Hurt Restaurants and Customers
We live in a whole new world of convenience. Everything is available at your fingertips, for any wild little thing, 'There's an app for that!' It used to be that when it came to getting food from a restaurant you had to either dine-in, take out, or do delivery but now with the explosion of third-party delivery apps, your Ubers, your Postmates, your Doordashes, your Grubhubs – you can get someone to bring you a meal from just about anywhere.
Why We Use These Ingredients
When it comes to making pizza or any other dish, the ingredients tell a story. They impart purpose, meaning, and specific choices behind every dish. Here at Streets of New York, it isn't any different. This time on the blog we wanted to talk about our ingredients and why we choose them.
How to Reheat Pizza
You have some leftover pizza in the fridge and you want to heat it up just right. You don't want to risk burning it and you don't like the texture after a few minutes in the microwave - so what do you do?
Why Hiring a Caterer is a Great Idea
In this blog post, the Streets of New York team is going to discuss everything you need to know about hiring event catering services, including five reasons you should hire a catering company for your next event, what types of events can benefit from a professional catering service, and how to pick the best event caterer in Phoenix for any special occasion.
These Are The Best Pizza Toppings & Combos, Period.
here's one that can really get people heated when it comes to hotly-debated topics: the best pizza topping combinations. If you've ever tried to order a shared pie with friends or family, then you already know that it can be virtually impossible to agree when it comes to what to put on top. Everyone has their own opinion about how to make the perfect pizza - but what do the experts say?
Calzones: The Unsung Heroes of Portable Italian Cuisine
What if you want to satisfy your pizza craving with something a little different? As it turns out, you can enjoy all the fabulous flavors of pizza, but in a form that changes things up a bit: the calzone. The calzone is an Italian staple worth sampling with a rich history that will indulge your appetite for fun food facts.
4 Reasons to Order Italian Food and Pizza for Delivery
Are you trying to decide what to order for delivery today? Whether you're craving a light lunch or an indulgent dinner, there's one kind of food that's sure to satisfy every time: Italian. From pizza to pasta and everything in between, Italian cuisine has something to suit any occasion and any mood.
NY vs Chicago: Whose Pizza is Best?
When it comes to culinary conversations, the topic of pizza is no stranger to debate. Considering the passion for pizza that's taken over the world, it's probably not surprising to learn that there are plenty of opinions on everything from the best toppings to the right way to eat a slice.
What Makes NY Pizza So Special?
Whether you're a native New Yorker yourself, or just lucky enough to know one, you know that there are a few undeniable truths about America's Big Apple. And above all else, there is one fact that just about every New Yorker firmly agrees on: there's nothing that can compare to authentic NY-style pizza.
Streets of New York, serving the Valley for 42 years!
Some of you may have been around on October 29th of 1976, while others were not even a speck on the world's radar yet. A brisk 65 degree Friday in Phoenix, Arizona, to those of us with thin blood, it was winter in October. Streets of New York first opened its doors on that brisk "winter" day with a dream of bringing a bit of the authentic East Coast taste we missed living in Phoenix, and the rest, as they say, is history.
New York Style Pizza and the Phoenix Suns!
There are some things that are just a tradition in this town and the Phoenix Suns Basketball games are one of them. No matter what age you are, there is an awed appreciation watching these taller than life players running from one end of the court to the other. These elite athletes rack up major shoe mileage during a single game, burning some serious calories and what better way to refuel their bodies than eating their favorite, Streets of New York pizza!
Pizza & Beer, the Perfect Combination
Who would of thunk it…but pizza and beer are like that old married couple. They are the pairing you don't question. The combination you can't seem to picture apart. It is the equivalent of peanut butter and jelly, cookies and milk, chips and salsa, burgers and fries and many more iconic food pairings.
There's Cauliflower in my Pizza Crust!
We all know that living a healthier lifestyle is trending these days and that of course filters through to our eating habits.There are however just some things that need to remain sacred and we save those special moments, you know "cheat days". These are the days that we consume whatever we want and try not to feel guilty the next day.
Streets of New York named Official Pizza for the Arizona Coyotes
The Arizona Coyotes has announced that they have agreed to a multi-year partnership with Streets of New York. Widely known for our New York Style Pizza, Streets of New York is now the "Official Pizza of the Arizona Coyotes." Our award-winning pizza will be available for fans at all Coyotes home games and Gila River Arena events.
A walk down memory lane at the original Streets of New York
As part of an ongoing blog series, we'd like to take the time and introduce our customers to each of our locations. These posts will be interspersed with our regular blogging material. So sit back, take a read and enjoy this venture into the Streets of New York saga location by location.
Broaster Chicken, Juicy, Crispy and Seasoned to Perfection!
When you think of Streets of New York visions of chicken don't pop into your head, am I right? You simply don't associate juicy, crispy, seasoned chicken, macaroni salad, and potato wedges with Streets of New York. Of course not, you think of us as New York style pizza, as you should. Well folks, we are more than just Pizza! In fact, we have mouthwatering Broaster Chicken at select Streets of New York locations.
Let Streets of New York be your dinner partner in your back to school planner
As the summer winds down we say goodbye to those days at the beach, cool breezes, waves crashing, tropical scents wafting through the air and the sounds of steel drums. Okay, okay, maybe those are just visions in my head. As an Arizona or Nevada resident, we all know what the "dog days of summer" means and feels like. Hopefully, many of you got a tiny break to visit our neighboring beaches in California.
Spaghetti & Meatballs, steeped in Tradition at Streets of New York
Spaghetti and meatballs is a meal that is steeped in tradition. It seems like the majority of my favorite foods come from Italy, and this is no exception. Streets of New York wants to carry that tradition forward and make it your go-to place for a delicious, memory-making spaghetti and meatball dinner.
Where should we eat, should we dine in, order out or have it delivered?
We all have choices and we all have options but yet we all can't seem to make up our minds. In my house, it's a battle of where do we eat, where do we go, order in, dine out, and what type of food. Choosing where and what to eat is something that Streets of New York can help you solve for your lunch or dinner dilemma.
Streets of New York Pizza Delivery since 1976
Times sure have changed as a few decades back there were only a handful of restaurants that delivered to your home. The businesses that did deliver were the staple restaurants that you could count on getting it to you hot and fresh out of the oven. Today there are a hundred or so restaurants in Phoenix, AZ that are frantically trying to get your business. We can't help but wonder why that is.
Pizza Crust is the foundation to a great Pizza
Let's get something straight…you can't build anything without a good foundation as you need something with stability and structure to withhold anything you place on top of it. Can you imagine trying to build a house without a solid foundation? The same applies to the construction of a pizza and at Streets of New York a good pizza crust is what defines our New York pizza.
Let's Get Saucy…Real Pizza Saucy
You say toe-may-toe, I say ta-ma-toe. No matter how you say it, tomatoes are the basis for a good pizza sauce and Streets of New York has great sauce! No matter if it is the homemade pizza sauce with its proprietary blend of seasonings, the secret recipe marinara used in the pasta dishes, or that "special dressing" used on salads and sub sandwiches, Streets of New York knows a thing or two or three about the sauce.
Pizza and Sports are like a Baseball and a Glove
The doorbell rings and what awaits you on the other side of the door is better than the touchdown your Cardinals just made (well almost for hardcore sports fans). A freshly made and delivered Streets of New York pizza and chicken wings are ready to join the party.
What makes Pizza a Pizza?
When a moon hits your eye, like a big pizza pie…that's Amore!! Who doesn't know that song or at least that lyric? Dean Martin's song "That's Amore" is as iconic as the food he references in the song, Pizza. Streets of New York respects the iconic nature of pizza and want's to explore each aspect of it in a series of blog posts. Sort of an in-depth look at what makes pizza a pizza.
Pizza Delivery to the Rescue by Streets of New York!
Did you know that for over 41 years of serving the valley we have been delivering piping hot, fresh pizza and more? Are you starting to smile for the first time today? Since day one, we committed to being a local restaurant that would make a difference and deliver not only your favorite pizza but everything on our menu to your home or office.
New York Style Pizza, a taste sensation!
New Yorkers have taken pizza to a new level and given it a flavor and style unique unto itself. Streets of New York follows in line with those traditions, and we make our pizza with those same qualities.